Created in partnership with the University of Notre Dame, "Under the Dome" is Chicago Projection Mapping's finest mapping presentation to date. Featuring over 25 minutes of spectacular projection effects, "Under the Dome" served as a celebration of a storied legacy, a feat of technical and creative design, and a bright glimpse into an exciting future.
[iee_list_box title="Summary" title_align="center" icon="" iconcolor="" circle="no" circlecolor="" size="18px" item_align="left" hide_on_mobile="small-visibility,medium-visibility,large-visibility" class="" id="" title_color="" border_size="1″ border_color="#dddddd" border_style="solid" border_radius="square"][iee_list_box_item icon=""]
Who: The University of Notre Dame
[/iee_list_box_item][iee_list_box_item icon=""]
What: 25-Minute Historical Mapping Documentary
[/iee_list_box_item][iee_list_box_item icon=""]
Where: South Bend, IN
[/iee_list_box_item][iee_list_box_item icon=""]
When: August 29th, 2018
[/iee_list_box_item][/iee_list_box]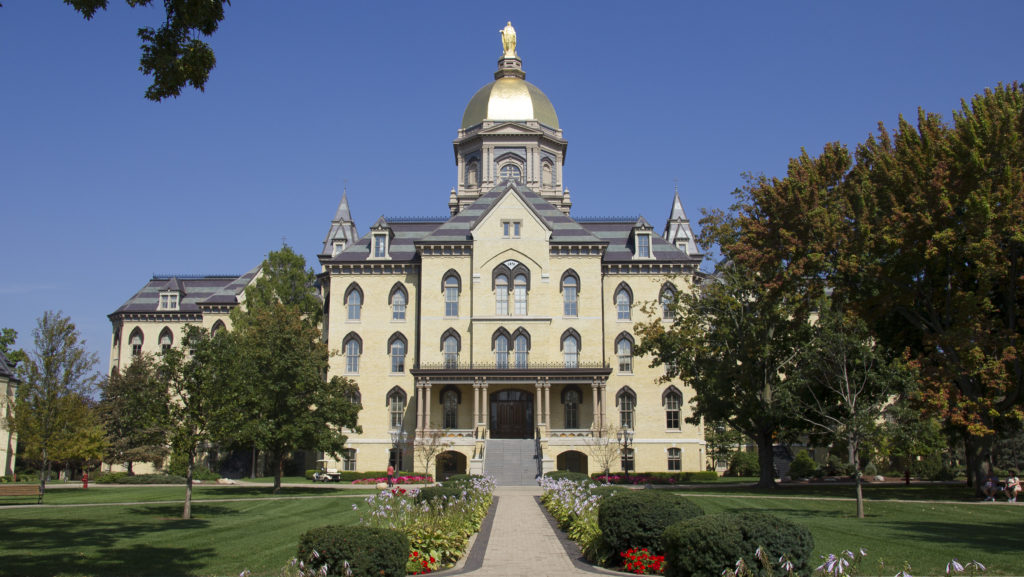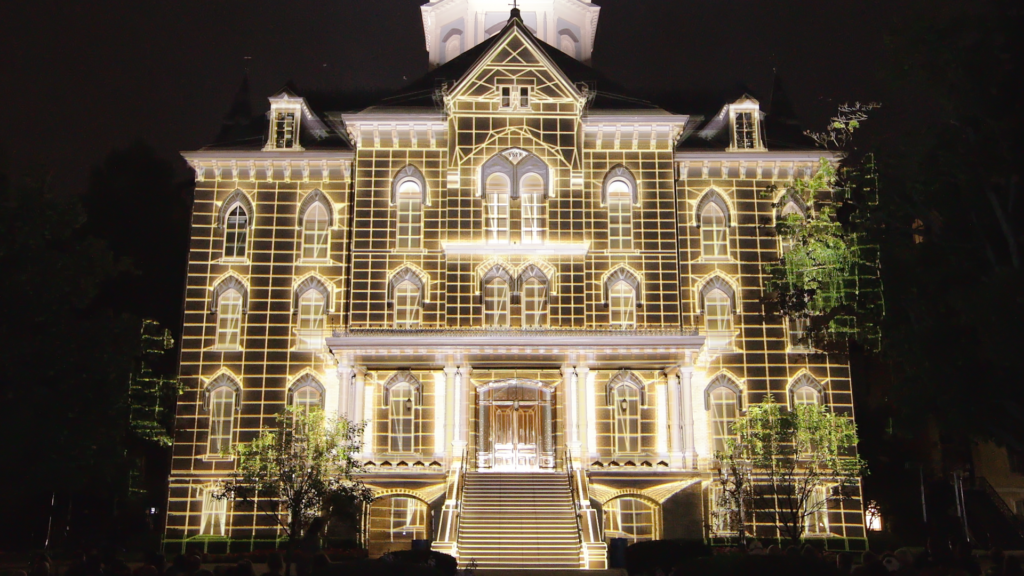 The journey to "Under the Dome" begins with interpreting the 175 year story of The University of Notre Dame. Collected from over 2,000 pieces of source material, Chicago Projection Mapping and the University laid out a plan that charted the legacy of school through ten key moments in history. Scenes like The Great Fire of 1871 would be recreated in in documentary fashion, with the fire spreading from a single room to engulfing the building. Other moments like the testing of gliders from the Main Building roof would be more interpretive and showcase the creativity of projection mapping through illusions of perspective. Chicago Projection Mapping continued to work closely with the University throughout the year-long development of "Under the Dome" – a powerful collaboration that ensured both historical accuracy and audience connection to the finished piece.
Bringing this vision to life took exceptional coordination between creative design and technical execution. An ultra-precise 3D model of the Main Building was developed using the original blueprints for the building, yielding a final Ultra HD base for all content creation. Over 10 TB of animated media was rendered and processed in the creation of the presentation. This creative was matched by a complete and comprehensive technical execution, utilizing over 70,000 lumens of 4K projection across the facade of the building. All elements of the show – lighting, audio, voiceover, and projection – were united within a custom-designed media platform written by CPM exclusively for the University.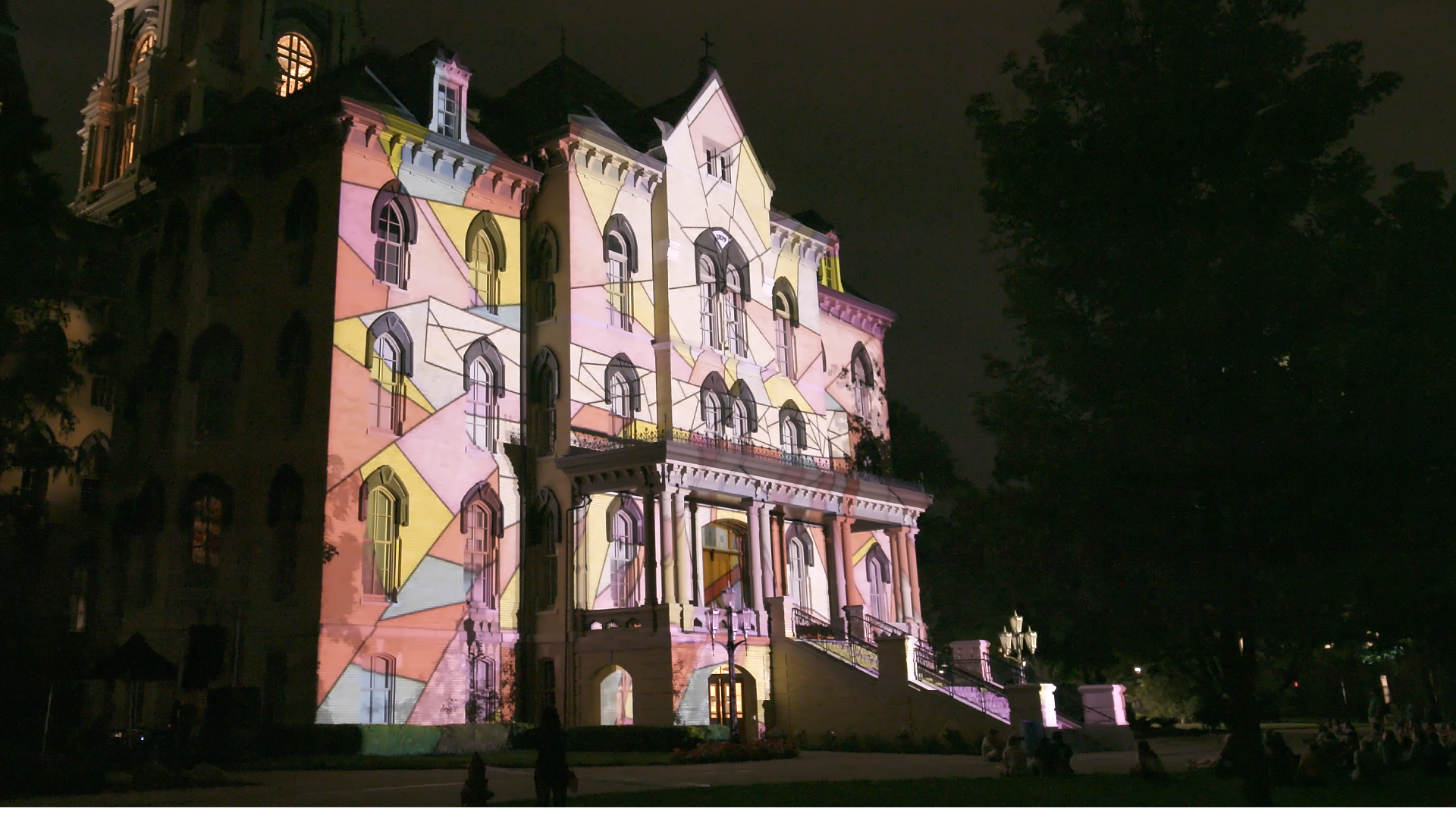 The final presentation of "Under the Dome" was a stunning display of top-tier mapping at unparalleled quality. Reception to the display was widespread throughout the region, featuring highlights through local NBC and ABC affiliates, extensive press and push from Notre Dame's press office, and dozens of social media captures from phones and tablets. In total, thousands of guests and attendees experienced a once-in-a-lifetime interpretation of a storied history, and Chicago Projection Mapping is proud to have been a crucial part of bringing this bright past to an even brighter future.